---
More Promises of God to Abraham, Isaac and Jacob
THERE You have it...

...80 PROMISES to the HOUSE of ISRAEL... although there are many, many more promises found in the Scriptures.

...80 PROMISES... not fulfilled in the JEWISH people, the CHURCH or CHRIST.

...80 PROMISES to the HOUSE of ISRAEL... that are nationalistic in nature specifically characterizing the descendants of two brothers - MANASSEH (the older - who would become a GREAT NATION) and EPHRAIM (the younger - who would become a COMMONWEALTH of NATIONS) - both existing in time, never really lost, ruling in their fullest expression... at the end.

...80 PROMISES out-lining a specific history of people chosen by GOD for HIS (not their) purposes, with specific identifiable markers that, too often through incredulity and disbelief, have been spiritually interpreted - with eyes fully closed... but with the best intentions to make GOD look good - (just in case HE really wasn't in charge of history).

The problem is: Who really needs a GOD Who makes the claims of a braggart, but can't keep HIS promises? I don't! If HE can't make these promises happen in time, how is HE going to keep the eternal promises HE has made those who trust HIS Son - Jesus Christ?

Promises like:
Come unto ME if you are weary and heavy burdened, and I will give you rest...
In this world you will have tribulation, but take courage. I have overcome the world...
I go to prepare a place for you that where I am, there you may be also... If it were not so, I would have told you...
I will never leave you nor forsake you.

The SAME ONE - the GOD and FATHER over all... made all these promises - promises to HIS Son, promises in time to a chosen people, and promises for all eternity to HIS chosen people of faith. Thankfully, HE is a FATHER Who keeps HIS Word.

---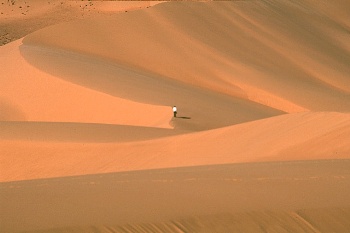 So where are the 1000s of 1,000,000s of children promised to Rebekah... possessing the gates of their enemies? Perhaps, they are still sitting under some palm tree in some middle eastern desert countryside waiting to fulfill their destiny?

IF SO... we can all rest assured the "end days" won't be upon us for another 1000 years or so.

And if the children of the ancient HOUSE of ISRAEL - as numerous as the dust of the earth, the sand of the sea, or the stars of the heavens - are still huddled somewhere near some secluded oasis in some sandy desert watering their unruly camels, waiting to fulfill their destiny... they are too late.

Moreover, they shouldn't be wandering around in the desert. They already did that once! Isaiah 41f is written to ISRAEL in the ISLANDS. What major ISLAND nations exist today? Can you list them?
There are the Caribbean Islands,
the Hawaiian Islands,
the Pacific Islands,
the Philippines,
Indonesia,
Japan,
the British Isles
and a few more, about as remote as Tristan de Cuhna or Gilligan's Island
Now, consider: Which of these Island nations will fulfill the great promise to bring the light of GOD's Word to all the nations? Will it be Castro's Cuba? Or how about Kiribati and the Christmas Islands?

Deductively speaking - the last question that probably needs to be taken into account includes the large population groups of the World:
the Chinese of Asia,
the tribes of Oceania and Indonesia,
the Zulus of Africa,
the Aztecs and Indigenous Indians of Mexico,
the Slavs of Eastern Europe, or...
the Anglo-Saxons and Teutons of Northern Europe and America -
... which of these groups of people - with a great Nation and a great Commonwealth of Nations allied like brothers, filled with millions upon millions enjoying privilege and blessing - is most likely to be the Guardian of JERUSALEM appointed by GOD to protect HIS beloved City in these final troubled times before Jesus Christ returns?

---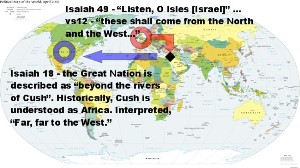 Unquestionably - and without contest, the peoples of the United States of America and the 53+ nations comprising the Commonwealth of the Great British Empire... are contenders of these promises.

By the way, this essay on God's Promises to a multitude of nations able to push their enemies to the ends of the earth... has nothing to do with the legalistic religiosity of British Israelism and Richard Brothers' strange writings in the late-1700s or those who followed his embellished legalism. Clearly Scriptures says the generations of ISRAEL would no longer practice Old Testament religious traditions. Nonetheless, they would become a great global power in the last days.

The Great British Empire and the United States Of America are the Guardians of Jerusalem in this generation... awakening to fulfill their destiny... and it doesn't look like there's too much competition out there that's gonna be able to change things anytime soon. Of these Brothers, no weapon formed against them shall prosper... though some political-pimples of history like Hamas and others... will undoubtedly try. Much like the local town drunk willing to take on anybody and everybody.

An aside - it is interesting to note that the English words "British" and "Britain" have a similar meaning in the Hebrew language: "brit" = "promise"; and "ishi" = "man"... or "brit" = "promise"; and "ain" = "land" - promised man; promised land

More Promises of God to Abraham, Isaac and Jacob
---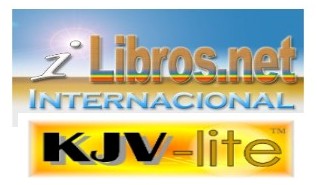 Next...?
---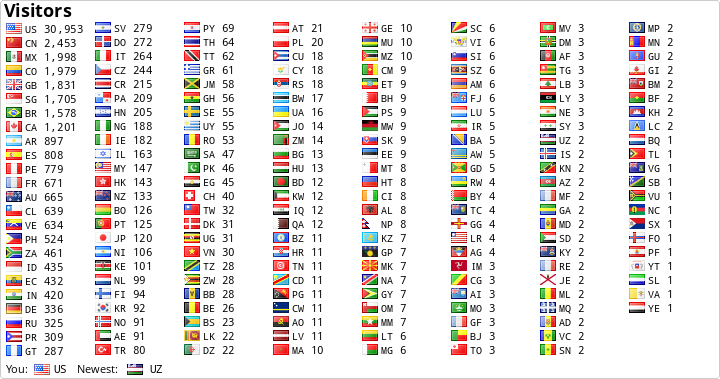 Copyright © 2005-13 iLibros.net Internacional, all rights reserved.
Email: ilibros@att.net





SDG